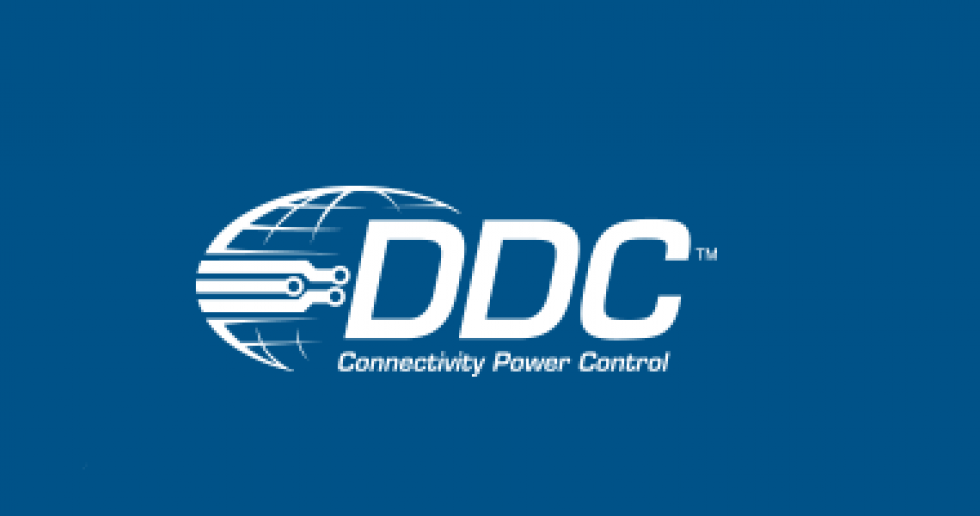 As of the date of this notice, the new DDC logo or equivalent will be applied to DDC part labels/markings for all new products designed and launched after the date of this notification, and will be phased in over time to be applied to existing products.
Depending on the date code of the production lots shipped, you may receive the same parts with either the new logo or the former logo applied to the part label/marking. This label/marking update does not alter in any way the original form, fit, function, or reliability of the product. Note: DDC products may have a part label/marking with the new DDC logo printed as a complete graphic as shown in figure 1a, or as the slanted letters DDC for smaller products as shown in figure 1b, or with our former logo as displayed in figure 1c.
Figure 1a – New DDC Logo (complete graphic)
Figure 1b – New DDC Logo for Smaller Products (text only)

Figure 1c – Former DDC Logo (still active and valid)
Reason for Change: The DDC logo was redesigned and launched on July 26, 2019.
Impact on form, fit, function or reliability: The changes described in this PCN do not impact form, fit, function, or reliability of the product.
List of Affected Part Number(s) and Changed Part Identification: All DDC part numbers are affected by this PCN. Note: The illustration shown in Figure 2 is a generic example intended to show the information contained within the device part marking.
Figure 2 Generic Part Marking Drawing
Phase-in of New Logo: As of the date of this notice, DDC will ship products with either the former DDC logo or the new DDC logo, and begin transitioning all product labels/markings over time to the new logo.
Data Device Corporation is committed to providing excellence in customer service and support.
For any question regarding this Product Change Notice, please contact your local DDC sales office or go to http://www.ddc-web.com/ContactUs/Sales/Default.aspx.
Download: New DDC Logo Letter